Car AC Repair Shop in Shreveport, LA
Kellogg's Auto Air Inc. focuses exclusively on automotive heating and cooling services, delivering solutions that keep drivers comfortable on the road. Our climate control capabilities extend to all makes and models, no matter the problem, and our shop is well-equipped to deliver a complete range of auto AC repair and maintenance services. Contact us today to schedule an appointment. Built on Family Values
We're a family-owned and -operated car AC repair shop, built on values of honesty and integrity. We strive to build personal, long-lasting relationships with our community members.
Experts in Car AC Services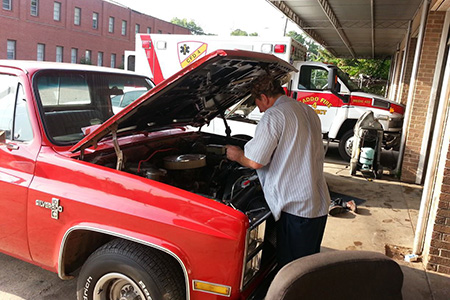 Climate control is essential to maintaining your comfort and concentration behind the wheel. Being able to kick on the AC when you're driving on a hot day or blast warm air when the temperatures drop means being able to focus on the road ahead. If your climate controls are broken or your system is faulty, make sure to bring it in before the problem gets worse.
Let Kellogg's Auto Air Inc. help you get your vehicle back on the road! As the local leader in heating and car AC service in Shreveport, LA, we're able to diagnose and resolve just about any issue with your vehicle's climate control system.
From entire heater core replacement to basic refrigerant charging for your AC, our experts are highly qualified to deliver the heating and car AC service in Shreveport, LA your vehicle demands. Because our shop focuses exclusively on climate control and forced air, we're able to work quicker and more accurately than other car AC repair shops! The result is forced air that feels great and is reliable at all times, no matter which way the temperature is headed. We'll save you the trouble of long-term damage to your forced air system, while restoring the comfort of your cabin. With over 45 years of experience under the hood, let us diagnose the issue and provide the results that keep you comfortable out on the road. Contact us now!
Drive in Comfort
Our forced-air car AC  services will keep your vehicle comfortable no matter what the weather outside is like! Reach out to us today to schedule an appointment for auto heating or cooling service.
Our car AC service shop has more than 45 years of professional experience and expertise when it comes to auto HVAC services. Count on us for complete service!
Our car AC repair shop is 609 Certified through MACS and an AC Delco preferred business. We're also members of the Better Business Bureau (BBB) and have a superior rating.
By focusing exclusively on heating and air conditioning for vehicles, we've become the foremost authority on these repairs.
No matter what type of car you're driving, we're ready to service it! Our abilities extend to new and late-model sedans, as well as trucks and SUVs—even semi-trucks and limos!
Proudly providing automotive air conditioning and heating repair in Shreveport, LA and the surrounding areas:
Lake View, LA
North Shreveport, LA
Wildwood South, LA
Blanchard, LA
Wildoak, LA
Bossier City, LA
Audrey Park, LA
Red Chute, LA
Willow Chute, LA
Sentell, LA
Blanchard, LA
Greenwood, LA
Keithville, LA
Benton, LA
Taylortown, LA