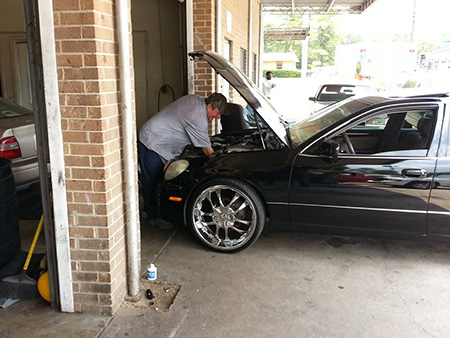 It's easy to overlook the convenience and comfort of proper forced air in your vehicle's cabin… until it malfunctions. If you're not getting the warm or cool air you need to be comfortable, it means there's a problem lurking deeper within your system.
At the first sign of malfunction, schedule an appointment with Kellogg's Auto Air Inc. Our car AC repair shop in Shreveport, LA delivers heating and cooling solutions you can count on!
Air Conditioning Service
On a hot, muggy day, few things are as refreshing as rolling up the windows and kicking on the AC in your car. If your air conditioning system is damaged or on the verge of failing, you could quickly find yourself feeling comfortable.
Our scope of abilities extends to every part and component of your auto AC system. Whatever the problem turns out to be, count on us to remedy it right, the first time.

Broken belt
Clogged or leaking condenser
Damaged compressor
Faulty pressure switches
Low refrigerant level
Refrigerant contamination

Our team understands the inconvenience of a faulty AC system. When you visit our vehicle AC repair in Shreveport, LA, we work hard to deliver the solutions you need to enjoy cool cabin air once again:

Auto air conditioning repair
Auto air conditioning maintenance
Recharging your system
Heating Service
When you kick on the heat in your car and are met with lukewarm air or stale odors, it's time to bring it in for auto heating services. Our team is quick to diagnose heating system issues and will do what it takes to restore the heat to your vehicle. Our complete repair abilities encompass all of the following essential parts and components:
Blower motor
Blower resistors
Thermostat
Heater controls
Heater core
We Service all Makes & Models
If the time has come to seek air conditioning or heating repair for your vehicle, waste no time in calling Kellogg's Auto Air Inc. to schedule an appointment. Reach us today at 318-635-4008!